Firm Overview & Practice Areas
Martin & Obermaier LLC was founded in 2006 by two former Unites States Attorneys, each of whom had over 40 years of experience in litigated matters. Both are Fellows of the American College of Trial Lawyers. Otto Obermaier retired from practice at the end of 2015.
Internal investigations and corporate compliance
Appellate advocacy, civil and criminal, state and federal courts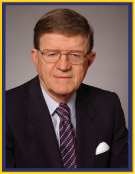 John S Martin served as a United States District Judge for the Southern District of New York for 13 years until his retirement in 2003. From 1980 to 1983 he served as United States Attorney for the Southern District of New York. Prior to the formation of Martin and Obermaier LLC he was of counsel at Debevoise & Plimpton LLP. Judge Martin maintains an active practice as an arbitrator mediator, expert witness on New York and federal law and a consultant to law firms on complex litigation.
During his 13 years on the federal bench Judge Martin presided at numerous trials involving complex commercial disputes. He had responsibility for the $3.2 billion insurance coverage dispute between Silverstein Properties and its insurers raising the question whether the attack on the World Trade Center was one or two occurrences. He tried cases involving patent infringement and insurance coverage for product liability claims, and decided important issue of copyright and securities law.
Since retiring from the Southern District Judge Martin has served as both party appointed and neutral arbitrator in a broad range of cases including contract interpretation, insurance coverage, construction claims, accountant's liability and property damage, including a $900 million dispute involving the construction of an electric power plant , insurance coverage disputes with claims in excess of $500 million, and disputes involving compensation due to senior executives as a result of the termination of their employment
Judge Martin has served as a mediator in securities class actions, products liability, insurance coverage, disputes among family members, and corporate governance disputes, as well as many other types of complex litigation. He successfully mediated the $1.2 billion settlement of property damage claims against the airlines involved in the attack on the World Trade
He has been retained by major law firms to provide advice with respect to ongoing litigation and to participate in moot courts involving contract disputes, bankruptcy claims, disputes between pharmaceutical manufacturers, claims relating to mortgage backed securities and a moot court of a hypothetical case that might arise if a Fortune 500 corporation engaged in a restructuring of its corporate form.
Martin & Obermaier, LLC
565 Fifth Avenue, 9th Floor
New York, NY 10017
Phone: 212.883.0000
Fax: 212.883.7688
jsm@martinobermaierlaw.com